Safeguard Your Privacy with Camera Guard™: The Comprehensive Protection for Your Device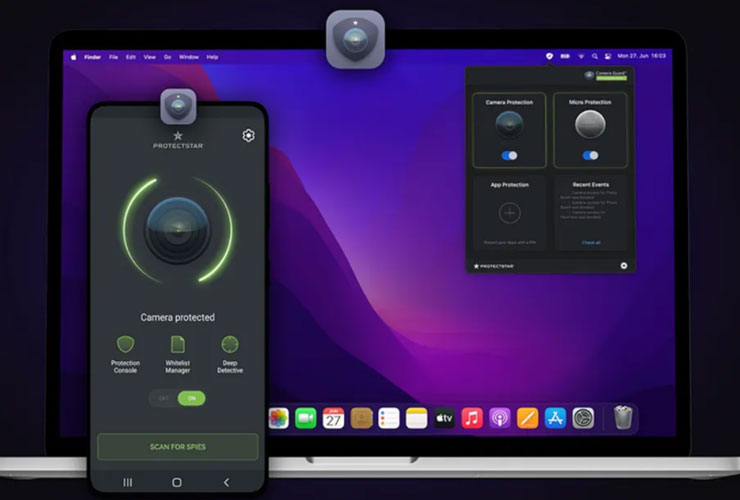 April 20, 2023
The Camera Guard™ app provides robust camera and microphone security, ensuring your privacy remains intact while offering additional features for enhanced device protection.
In a world where privacy breaches have become commonplace, protecting your devices from hackers and malware is crucial. Camera Guard™ is a cutting-edge app designed for Android and macOS users, offering comprehensive protection against unauthorized access to your device's camera and microphone.
With millions of users worldwide, including tech giants like Facebook™ founder Mark Zuckerberg and former FBI chief James Comey, Camera Guard™ is the go-to solution for securing your privacy. In addition to camera and microphone security, Camera Guard™ offers a range of features that enhance device protection, making it the ultimate tool for safeguarding your digital life.
Benefits of Camera Guard™:
Complete Camera Control: Camera Guard™ puts you in control by allowing you to choose which apps can access your camera or webcam. With just one click, the app blocks and monitors processes that try to access your device's camera, reporting any security breaches.
Prevention of Spying and Taping: Since Edward Snowden's revelations in June 2013, it's become evident that surveillance is widespread. Camera Guard™ offers an effective solution against webcam spying and eliminates the need for unsightly taping.
Deep Detective™ Technology: Deep Detective™ is an intelligent and versatile detective that monitors all access attempts to your macOS device. This advanced technology functions like a firewall or alarm system, detecting both known and unknown threats using modern heuristic methods.
PIN Protection for Apps: Camera Guard™ introduces a 4-digit PIN protection feature that helps you secure specific apps on your device. This feature allows timed access to selected apps while restricting others, making it ideal for parental control.
Microphone Security: On macOS devices, Camera Guard™ natively integrates microphone protection. The Micro Guard™ app is available for Android users, designed to block and protect your device's microphone effortlessly.
Enhanced Device Security: Camera Guard™ goes beyond camera and microphone protection to ensure your device remains secure. The app monitors system processes and actively detects and blocks malicious software or unauthorized access attempts. This comprehensive approach to device security keeps your personal information, files, and photos safe from prying eyes.
Regular Updates and Support: The app is regularly updated to address new threats and vulnerabilities, ensuring you always have the most robust protection. In addition, a dedicated support team is available to assist you with any questions or concerns, helping you confidently maintain your privacy.
User-friendly Interface: Camera Guard™ features an intuitive, easy-to-navigate interface that makes it simple for users of all skill levels to protect their devices effectively. With straightforward setup and customizable options, securing your privacy has never been more accessible.
Camera Guard™ offers the ultimate solution for safeguarding your device's camera, microphone, and overall security from unauthorized access. With an intuitive interface, easy-to-use features, and advanced security technologies, Camera Guard™ ensures your privacy remains intact in a world where spying and hacking are prevalent.
Protect your personal and professional life by downloading Camera Guard™ today, and experience the peace of mind that comes with knowing your privacy is secure and your device is well-protected.

Learn more:
https://www.protectstar.com/en/products/camera-guard
https://www.protectstar.com/en/products/micro-guard
Go back